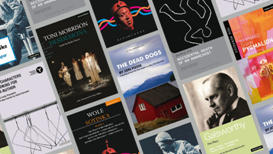 9 October, LONDON: Bloomsbury, the leading independent publisher, is pleased to announce that its author Jon Fosse, the Norwegian playwright, has won the 2023 Nobel Prize in literature "for his innovative plays and prose which give voice to the unsayable."
According to the citation of the Nobel committee, "his immense oeuvre, written in Norwegian Nynorsk and spanning a variety of genres consists of a wealth of plays, novels, poetry collections, essays, children's books and translations. While he is today one of the most widely performed playwrights in the world, he has also become increasingly recognised for his prose."
Jon Fosse has won many European awards and in 2007 he was made a Knight in France's National Order of Merit. He has written 40 plays, performed around the world in different languages, including the Septology series of novels, Aliss at the Fire, Melancholy and A Shining.
Winning the 2023 Nobel Prize for Literature, Jon Fosse becomes the 8th Nobel-Prize winning writer from Bloomsbury's imprint Methuen Drama, joining Peter Handke, Dario Fo, Toni Morrison, Wole Soyinka, Luigi Pirandello, John Galsworthy and George Bernard Shaw.
Fosse's first English language play collection was published by Oberon Books, acquired by Bloomsbury in 2019, which has now published six collections of his plays, alongside single playtexts including I Am The Wind and The Dead Dogs to coincide with major premiere productions in London.
Nigel Newton, Chief Executive of Bloomsbury, commented: "Jon Fosse's remarkable body of dramatic work was fiercely championed by Oberon Books, now part of Methuen Drama, within the Bloomsbury Academic division, since the publication of his first English language play collection in 2002. Since then, we have published five further anthologies, totalling over 30 plays and a number of standalone translations and adaptations by some of the world's most successful contemporary dramatists. While he is one of the most-performed writers in Europe, his dramatic canon is less well-known on U.K. stages and we hope that with this historic win, the English speaking theatre community will discover and fall for his unique linguistic style, poetic naturalism and formally inventive work that manages to be both existential and life-affirming."
For further information please contact:
| | |
| --- | --- |
| Hudson Sandler | +44 (0) 20 7796 4133 |
| Dan de Belder/Emily Brooker | |
Bloomsbury Publishing Plc
Bloomsbury is a leading independent publisher of fiction, non-fiction, children's, specialist, academic and professional titles, listed on the London Stock Exchange. It is one of the few publishers with a portfolio that includes both general and academic publishing. Bloomsbury's ambitious growth story has seen the Group become a significant global publisher with offices in the UK, US, Australia and India.