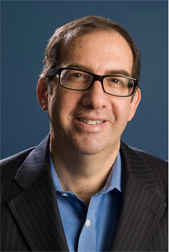 Bloomsbury Publishing Plc announces today that Evan Schnittman has been appointed Managing Director Group Sales and Marketing, Print and Digital. He will lead Bloomsbury's sales and marketing in the UK, US, and Germany across all divisions of the group.
Evan Schnittman comes to Bloomsbury after eight years at Oxford University Press where he was vice president of corporate & business development and responsible for digital partnerships and licensing across OUP's various content divisions. Evan has over 24 years of publishing related business experience having held positions as Executive Vice President at The Princeton Review, Senior Editor at Little, Brown, and editorial and sales positions at FA Davis. Evan started his publishing career at Barnes & Noble's main store on 5th Avenue in Manhattan. Evan is widely known in the industry as a thought leader - and is widely sought out to speak and write on the key issues facing content companies in a digital world - across Asia, Europe and the US. His blog, BlackPlasticGlasses, has become required reading for anyone wishing to understand book publishing in the digital age.
Nigel Newton, Chief Executive of Bloomsbury, said "I am delighted to welcome Evan to Bloomsbury. The creation of the role of a worldwide head of sales and marketing and the appointment of a highly experienced American with considerable digital experience reflect our view of the future of the publishing market place."
For further enquiries:
Bloomsbury Publishing PLC
Nigel Newton, Chief Executive, Bloomsbury Publishing Plc
+44 (0) 7494 6015
Pelham Bell Pottinger
Daniel de Belder / Rosanne Perry
+44 (0)20 7861 3232